HOF VCH WTCH CH Shope's Goodnight Bandit HX RTDsc CDX
PLEASE MEET BANDIT (he left us at 14.5 years of beautiful age - he accrued titles, stole the heart of those he met, and left us and others with quite a legacy coming down thru his pups):
VISIT HIS TITLED OFFSPRING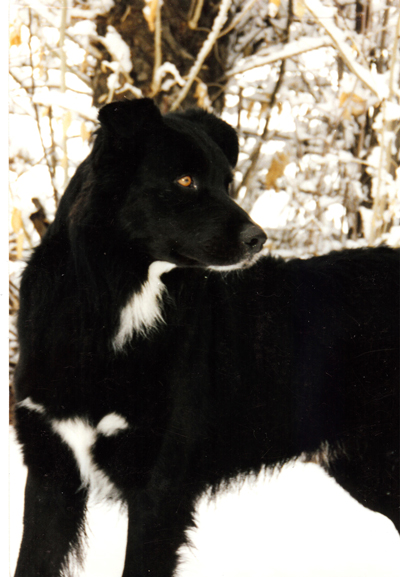 Age 2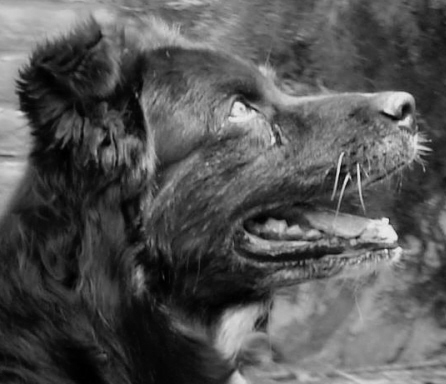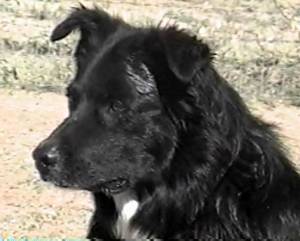 4 AND 8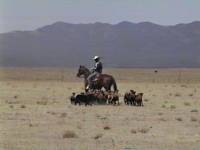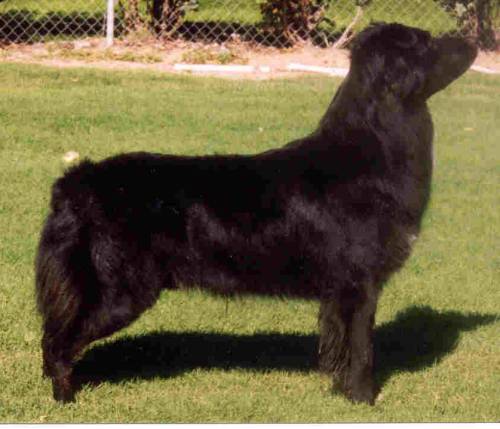 5 and 3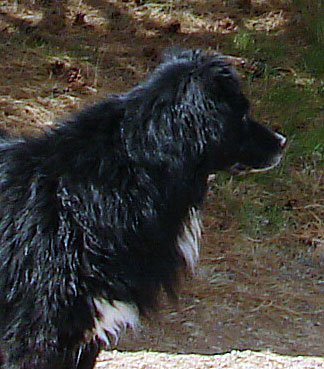 12
HOF VCH WTCH CH SHOPES GOODNIGHT BANDIT CDX RTDsc HAs HXd
Australian Shepherd Club of America, Inc. - asca® , American Kennel Club of America - akc, United States Australian Shepherd Association - usasa
Titles: (asca) Hall of Fame, Versatility Champion, Working Trial Champion, Conformation Champion, Companion Dog Excellent, Ranch Trial Dog sheep & cattle, (akc) Herding Started sheep, Herding advanced ducks
| | | | | | | |
| --- | --- | --- | --- | --- | --- | --- |
| DOB 030194 | HIPS | EYES | TEETH | DNA | MDR1 | HEALTH ISSUES |
| DOD 033008 | OFA good | Cleared thru age 9 | | | | |
page two pictures of Bandit and page three pictures of Bandit am
HONORS: asca Merits and Multi-Stockdog Finalist; usasa Merits - multiple HIT/HC on stock
ily was loved and owned by one of the very best of God's four-footed creations. Our HOPE is for any of you
Book DOWN FROM THE MOUNTAIN. Author: JAMES MACKRELL. Don't miss your opportunity to read a terrific book about Australian Shepherds doing what they were bred to do. This is a book for the entire family. Thank you James Mackrell for dedicating this book to our late Bandit and designating some income from the sale of this book to support the research to cure cancer in dogs and help fund the Australian Sheperd Health & Genetics, Inc.
reading this that you have the opportunity to be owned by such a dog in your lifetime. We miss is dog very much.
ABOUT OUR COMPANION BANDIT:
Bandit was last pick in his litter, probably due to lack of white and copper trim. Many folks like big white collars or lots of copper trim. Bandit didn't need either to turn heads. His coal black coat and golden eyes stole our hearts instantly. His presence demanded your attention.
He went through every gangly puppy growing stage one could imagine and emerged one handsome studly dog at 2.5 years of age. He carried a very light coat the first two years and really never coated up until about age seven. He finished quickly in conformation, even taking Best of Breed honors. A self stacker, clean and efficient mover, he was quite striking in the competition ring.
Smart, bidable, loyal and instinctive from the get-go, he proved himself an outstanding foundation dog for Legends, a great pet, reliable ranchhand, and a superior producer. He earned his WTCH by age two and finished #5 in cattle at the ASCA Stockdog Finals that same year. He went on to become a breed champion plus a versatility champion, but mostly a champion of our hearts and anyone else who met him.
When he was a pup and we were at work, he would gather our tools (literally shovel, rake, hoes) and pile them on the lawn. When we returned each day, there the tools sat in a nice neat pile. They were not chewed on. We're not sure if he wanted us to go to work or just tell us he loved and missed us:) He was, however, definitely living up to his name. When waiting to come in the house at our old place, Bandit would stand at the sliding glass door and wait for us to notice him (he never barked to be let in). All you could see was his golden eyes reflecting light and that teeny bit of white on his chest and toes. Any thief meeting this dog in the dark would have been sorely taken back, as he'd have surely surprised them with his presence. He has a black undercoat and the most gorgeous black coloring of any dog we've ever seen, and eyes that could pierce your soul and move stock at his will.
He was going to be granddaughter Shelby's pee wee dog but all he would do is lick her so much, she could not walk. He adored her but alas was fired with much giggling by our family as her pee wee prospect. Bandit was terrific with children and adults, but still capable of ascertaining danger and protecting his homefront, true to the great heritage of the Australian Shepherd breed.
Bandit loved to retrieve. He was a natural. In obedience, he was a willing student of his dumbbell and anything else asked of him.. He has offspring doing search and rescue, all bidable, astute and willing partners similar in temperament and attitude to Bandit. Some of his offspring work on ranches and/or farms, and many others have been National Specialty or Pre-Show placers or winners in stock, obedience, agility and conformation. Our hearts are warmed when we meet these carrying on the great versatility that was so readily evidenced in Bandit. You can find Aussies related to Bandit in Europe, some certified in search and rescue plus working stock and all being someone's best bud.
Working ducks came the easiest to him and it was breathtaking to watch him simply move his head to move the ducks. Ducks stuck in the corners simply got a nudge from his muzzle and on they moved. He could pick one up out of a water trough and gently set it down to move it.
You'd rarely if ever see Bandit nip a sheep to get it to move unless he was working to turn on a young pup, or move a stubborn ram or ewe. He could separate sheep from horses, lambs from ewes, and sheep from cattle upon command. He preferred ranch work to trial competitions, but he managed to excel at both during his lifetime. He would head cattle when the occasion called for it. The only time he heeled cattle was when working chutes from the outside. He's backed up stock one foot at a time with just the use of his golden eyes and presence. He never in his lifetime maimed or abused livestock and was an incredibly trustworthy ranch dog. He loved to take a dip in our pond on the ranch after a hard day's work, but he hated to be hosed off if he was dusty or dirty. Hosing off was for sissy's or taking a bath for looking his Sunday-best, but ponds were for stockdogs and he considered himself the latter. He worked the absolute best in the worst weather; the muddier, colder, or snowy the weather, the happier he was to be on the job.
He went on camping trips with Steve, accompanying Steve and his buddies on trips via horseback or dirtbike into the wilderness. Always the best companion anyone could ask for, Bandit knew when to be the guardian and when to be the welcome mat.
He was a true friend, loving companion, kinda big lap dog:), and awesome ranchhand. He had the best temperament of any dog we've ever come across insofar as guardian instincts, reading people, reading stock, and being man's best friend. He's a foundation dog for Legends, Hall of Fame for his offspring which have excelled in many disciplines (check out his progeny page), and a very valued family member here. We retained Ally by our Bandit, and she has his awesome temperament and attitude about life.
We loved this black dog and miss him so much. Remember last pick sometimes is the best pick:) We're very happy Bandit picked us to love throughout his lifetime!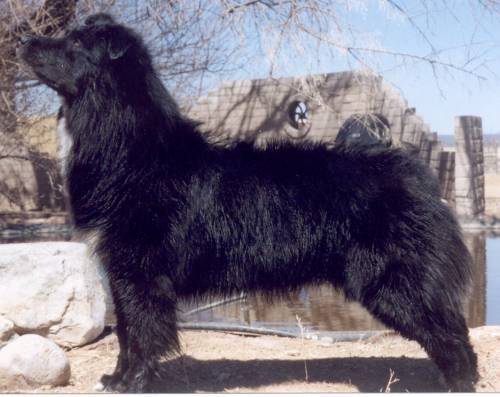 Bandit age 10
PEDIGREE: courtesy of http://www.hrdndog.com.
Pedigree of:

HOF VCH WTCH Ch Shopes Goodnight Bandit CDX RTDcs HA HX DNA-CP
Black W RF AS-9464G24M F=7.00%
M
E66426 DL52078106
3/1/1994
asca & akc Ch Sand Ridge Ventana
Blue RF AS-7429G28M F=12.05%
E52983 DL46810801
9/17/1991
Windhills Claim Jumper
Red C/W AS-5031G45M F=13.68%
E31154 DL46218701
3/30/1987

HOF Ch Jubilees Federal Agent
E12759 DL40536701

Ch Shady Acres Soldier Blue

Tiffany of Windermere

Ch Lady In Red of Heatherhill
E20290

HOF Ch Brigadoons One Arrogant Dude

Higgins Dusty Rose of L7

Viva Las Vegas of Starcross CD
Blue AS-3899G29F F=9.34%
E26653 DL47332101
7/2/1986
Midnight Special of Somerset
E979

Elk of Aberdare

Shenandoahs Bluemoon

Ch Visions of Fireslide
E7146

Ch Hot Toddy of Emerald Isle

Ch Vanlandinghams Ebony Lace CD OTDd

Wilcoxs Bitablue Always Raven, working ranch dog
Black W RF F=1.78%
E57102 DL50067301
1/25/1992

Truelucs Hushup Kid
Black C/W AS-8822G62M F=12.34%
DL46056702
4/19/1990
Ch Truelucs Impressive Kid
E31216 DL46877702, over 45 Best of Breeds

Ch Red Banks Paradise of

Trueluc CD STDds

Ch Truelucs Touch of Class

Truelucs Smurfette
DL50436301 (our VCH Claugene's dam)

Picasso Blue of Hazelwood

Briarbrooks Crystal of Trueluc

HOF Wibi Black Velvet
Black W RF F=0.83%
DL50355001
3/19/1990
Wibi Crystal Blue Smoke

Rowes Dan of Bell Star ATDs

Pine-Lines Chocolate Frosting

Queenslands Sissy

Queenslands Bearpaws

Queenslands Nicki Nocona