020903 - 090915
VCH CH Legends StarN Max A Million asca CDX RM OTDc ATDds akc RE CD (1 AKC CDX leg)
Max's brother Pulley is a VCH also - HOF VCH WTCH CH Legends Boom Vang CD OFTDs RS-O JS-O GS-O OAC OJC NGC OA DNA-VP
Max earned his versatility championship in tact. He's our family's fourth versatilty champion, our second bred by VCH. Others we've handled, owned, loved and trained to VCH titles are: HOF VCH Bandit, VCH Claugene and VCH Misty
Max stole hearts everywhere we traveled. He was not only an outstanding performance partner, he was also a beloved family member to his packmates and his humans. He worked on the ranch, warmed laps in the evening, and protected his family as every Aussie should do. He will forever hold a special place in our hearts.
HONORS:

MVA (most versatile Aussie) - 5th Annual Lobo ASA 3 Pine Ranch Classic '05
MPS (most promising Aussie) - 5th Annual Lobo ASA 3 Pine Ranch Classic '05
HO (high open combined) - Colorado (CASA) May Trial '07
Top 20 Obedience Merits '04-'05 for his CD in asca®
#17 merits for open sheep '06-'07 asca®
BOB-ACH honors
Max made a 194 ('07-'08 show year), and in the '08-'09 show year: 187, 185, 185.5 and a 195 on his road to his CDX:) He had two HIT Aussie awards.
Third placement in the Stockdog Titled Conformation Class '11 ASCA Nationals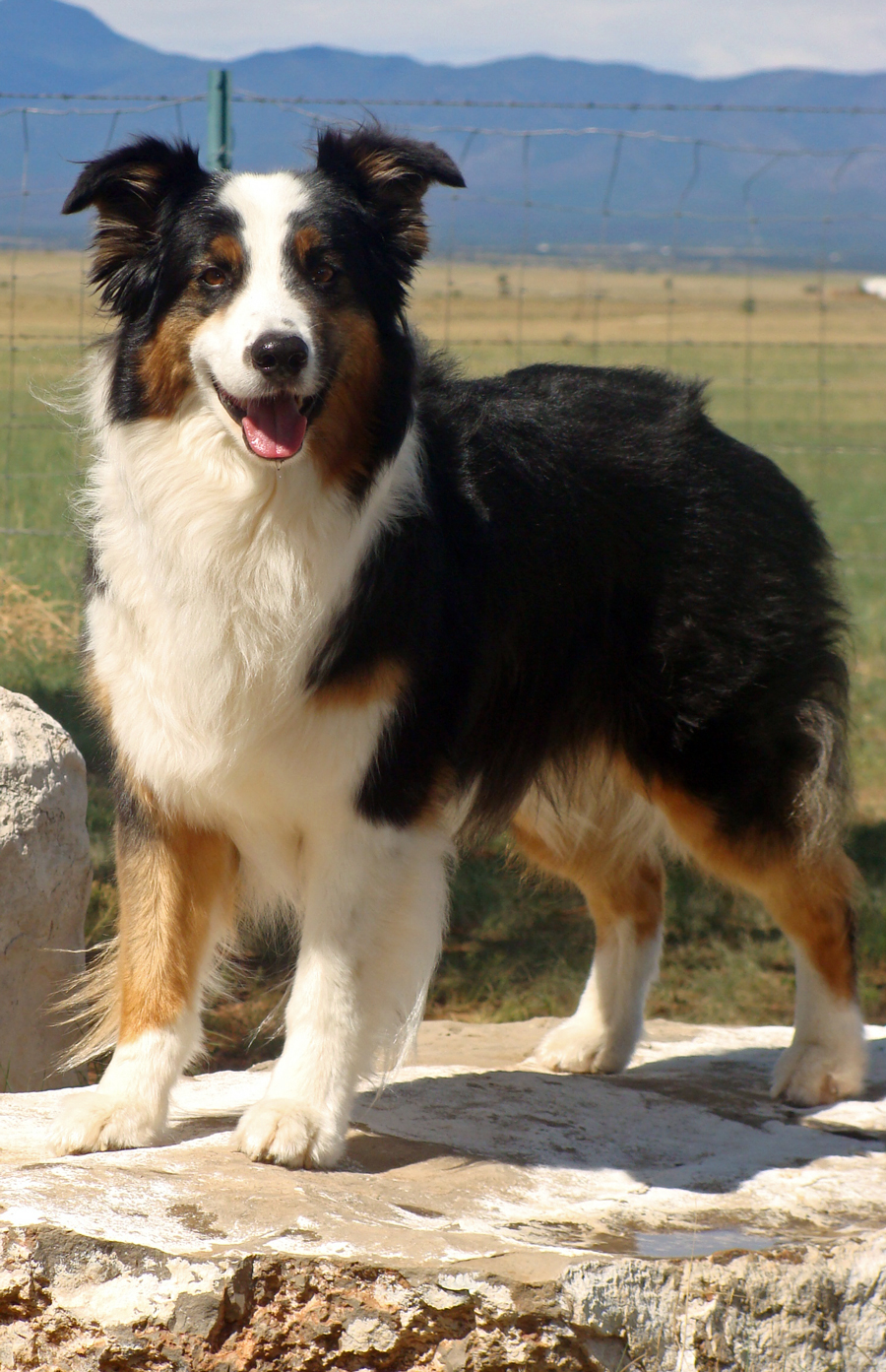 VERSATILITY CHAMPION MAX is the character you see in the picture:)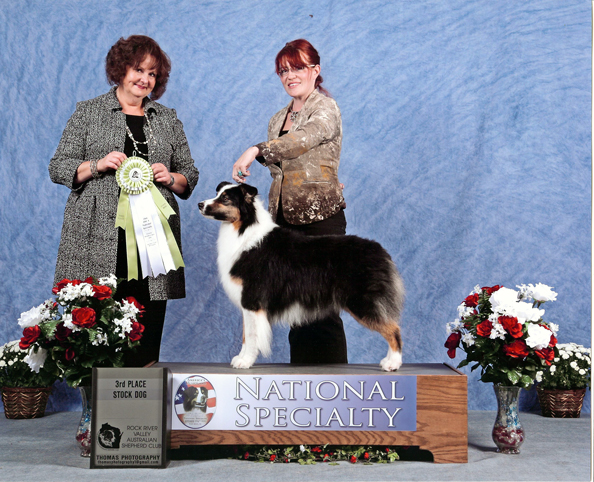 HANDSOME AGE EIGHT!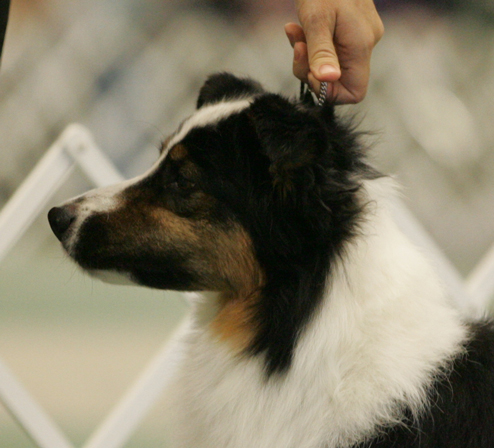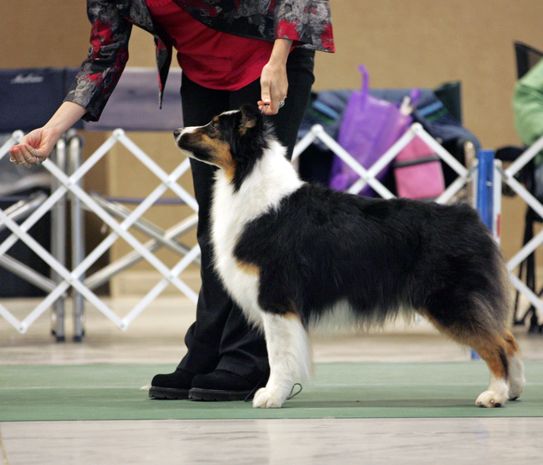 Always happy and eager to compete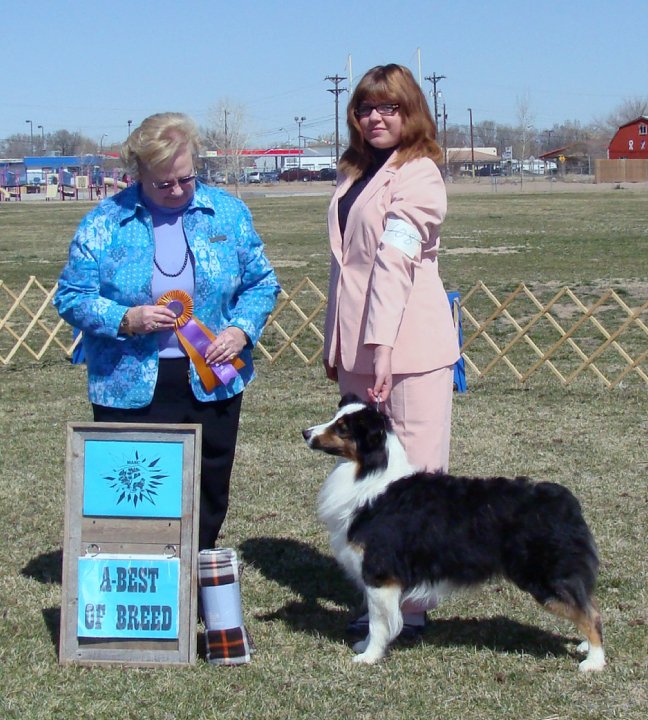 3/10
]
Max at age two
DOB 020903

HIPS

ELBOWS

EYES
TEETH
DNA
HEALTH
MDR1

COI: 11.92%

OFA Excellent

Normal

Cleared annually

clear of heretary cataract mutation HSF4

Full

Scissors

Verified

Hypothyroid (age 7) - doing marvelous on his thyroid med

All Max' siblings and offspring are normal thyroid and none are exhibiting any health problems.

Max is neutered.

Normal/Mutant
Finished his championship at age three handled by Stephanie Shope McDaniel - Max is handled in obedience and on stock by Anne Shope - in junior handling by Shelby-Anne McDaniel
MAX IS A LITTERMATE TO:
Pulley: VCH WTCH CH Legends Boomvang CD NA NAJ OAC OJC NCC RS-O JS-O GS-O OFTDs (OFTDd leg) x OFTDs(one OFDs & OFDd leg), OFA-E, Thyroid-N, Eye-C, Elbows-N, full dentition, scissors, MDR1-normal/mutant (CHAMPION & STOCK TITLED PRODUCER). Pulley is owned by Betty & Kalla Jaco, TX (Regatta Australian Shepherds). .
Mattie: Legends Curtain Call for MLady asca UD akc UDX (almost UDX2) (70+ akc OTCH points!!) akc RA NAJ. Mattie is an honors dog in asca and akc, merits in Front & Finish, is owned by LAURIE KOLLMAN MILLAR/NM
Deja: Legends Repeat Performance is coowned by Shadowland Aussies and Kickapoo Aussies. She is OFA-E, Eye cleared, Thryoid cleared, Full dentition, Scissors. Deja resides in Tennessee.
Blue: Legends Blue Kent is a certified therapy dog.
KIDS (by our HOF BISSp CH Legends StarN Magic Happens STDsc):
Legends StarN Gentleman Jym RA CD (Jym) - merited obedience/rally
Legends StarN A Study in Blu CGC RN (Watson)
Legends Starn Devil In A Blue Dress - May/2010 Two RWB awards; June/2010 4 pt major (WB/BOW)- owned by Janine Kester and Liz Busquets (PICTURED BELOW)
PEDIGREE: compliments of http://www.hrdndog.com




Pedigree of:


[MAX]
HOF Ch Spring Fever Standing Ovation (littermate to Ch Spring Fevers Coz to Applause, Ch Spring Fever Teas Me Pleas Me, & Ch Spring fever Great Expectation) one title away from asca HOF
Blue C/W AS-14778G24M F=10.03%
E98555 DL76152206
7/21/1998
HOF Ch Caledonias Crowd Pleaser ROMX (littermate to CH Caledonias Saint I Ain't & Ch Caledonias Ain't She Grand) multititled producer, including WTCH offspring
Blue C/W AS-6436G27M F=10.36%
E47779 DL43626701
9/10/1990
HOF CH Jimmee Blue of Adelaide CD
E19509

HOF CH Copper Canyons Caligari CD

Ch Hotsey Todsee of Fireslide

Ch Butterfields Silky Suzann
E31040

Ch Beau Gestes Bow Tie And Tux CD

Chavanos Anna Roseannadana STDds

WTCH Ch Spring Fevers Whoopi Gal
Black C/W RF AS-9750G27F F=11.18%
E68070 DL54498301
2/23/1994
WTCH Ch Gold Nuggets Contender CD
E48598 DL39307402

HOF CH Propwash St. Elmos Fire

Ch Flatlands Lisa of Gold Nugget TD

Spring Fever Jazz Minn (litter mate to Ch Spring Fever Teewinots Blixen)
E53678 DL40962105

SVCH WTCH Ch Gitalongs Half Cocked UD DNA-CP

WTCH Ch Spring Fevers Contessa

HOF Legends Copper Canyon Watch Me asca/akc CD maj ptd ASCA/retired DNA-CP (littermate to CH Legends Three Times a Lady CD STDs, CH Legends Rx 4 Success) Black C/W RF AS-13178E25F F=9.30%
E88737 DL68097205
3/18/1997

Ch Windogos Johnnie Walker Red, #5 all-breed AKC stats (littermate to Ch Windogos Red Estaire)
Red Merle C/W AS-7237E32M F=10.87%
E49944 DL41106203
1/31/1991
Ch Feel the Fire of Heatherhill
E28761 DL49637601

Red Necked Dude of Heatherhill

Ch Gorgeous Red Velvet

Windogos Back To the Future (littermate to Ch Windogos C.R. Precious Star CD ATDd STDcs & Ch Windogos Sweet Success), 14 CH pts, deceased, E39239 DL43583901

Ch Some Like It Hot of Adelaide

HOF CH Windogos Southern Belle

BISSv VCH WTCH CH Lady Claugene Shope CDX RTDcs ROMI ROMII DNA-CP (1 title short of asca HOF)
Black C/W AS-9265G24F F=14.08%
E65240 DL51329008
12/31/1993
Truelucs Reflejos De La Noche (littermate to Ch Truelucs In the Nick of Time CD STDds)
DL50104701

Ch Truelucs Impressive Kid

Truelucs Smurfette

Zuzaxs 2 Know Me Is 2 Love Me
E52512 DL45946502

Ch Odysseys Strikeforce of Zuzax

Odysseys O Me O My O of Zuzax
HIT HERE TO GET TO THE MAIN LEGENDS STARN INDEX