MOXIE (SCROLL DOWN FOR PICS OF SIBLINGS)
STARN LEGENDS COURAGE UNDER FIRE asca BN RN CD (1 High In Trial award) RA (2 legs RAX) RE (2 legs REX), FOUR ASCA MAJORS IN CONFORMATION (close to finishing her A-CH title - she needs 1 point, plus she has her akc CD
Moxie is currently being trained and handled by Anne Shope - the asca BN/RN titles, however, were put on by Stephanie Shope. Moxie is currently being trained by Anne to be Stephanie's service dog, plus Moxie will compete in rally & conformation. Moxie is high drive on stock, plenty of natural ability and talent, but at this time won't be training to work stock.
co-owned by Stephanie Shope & Anne Shope
DOB: 032014 - EYES CLEAR, FULL DENTITION, SCISSORS, MDR1 AND HS4 CLEAR BY PARENTAGE
Parents are OFA-E, Elbows-N, Eye cleared, Full dentition/scissors, MDR1 N/N, DNA-VP and HSF4 Clear
sire: RTCH Legends Country Strong Garth CDX ODX REMX (to trial on stock late 2018 with Steve; he has several WTCH siblings and multi-titled performance siblings, one of which is major pointed in breed, plus Garth has produced TWO WTCHs, has major pointed and performance titled offspring)
dam: HOF CH StarN Meant To Be By Testimony CD RNX
Moxie is high drive, possesses plenty of stock instinct and want-to, super easy to live with, awesome temperament, and in training to be Stephanie's service dog. Moxie carries the blood of our late VCH WTCH HOF Bandit, WTCH Talon, WTCH HOF Edi, WTCH HOF Gracie, HOF Ally, and on Kismet's side the late GCH BISS HOF Cobb, ...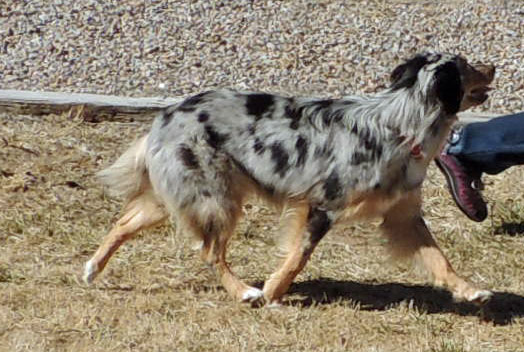 THANK YOU JUDGES WHO HAVE AWARDED MOXIE MAJORS IN ALTERED CONFORMATION
SBJ Lori Fausett WB/BOW/BOB
AKC Judge Joe Young - WB/BOS
PBJ Kalla Jaco - WB/BOW/BOB
PBJ Betty Jaco - WB/BOW/BOB
and RWB to a major under BJ Sue Fullington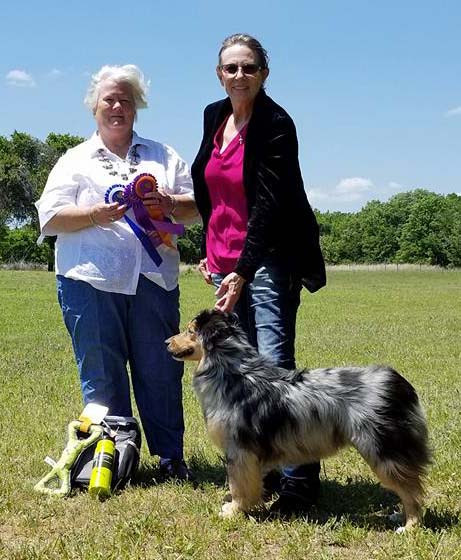 Heart of Texas ASC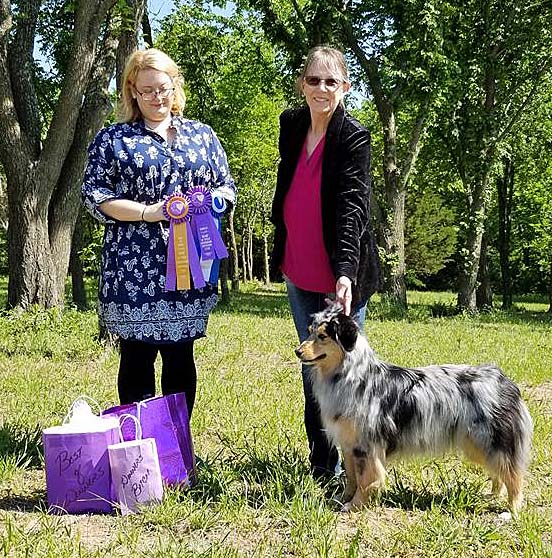 Heart of Texas ASC


Moxie carries & retrieves both
Moxie loves water & water bottles & is quite the character
SIBLINGS TO MOXIE:
TENACITY is now with Deirdre Luttrell in South Carolina - Starn Legends Shut Up and Drive - She is training in agility.
----------------
JASE is with Megan Sims/Arizona - WTCH HTCH StarN Legends Unstoppable
VIV is with Diana Curl/Arizona - StarN Legends Vim and Vigor (TRAINING ON STOCK AND IN AGILITY AND WILL DO CONFORMATION WHEN MATURE)
---------------------------
DUBLIN is with Travis Grider and Asya Khesin/Washington - StarN Legends Dublin (STOCK INSTINCT TESTED AND DID SUPER)
-------------------------