OUR BEAUTIFUL PEPPER
left us 1/3/2013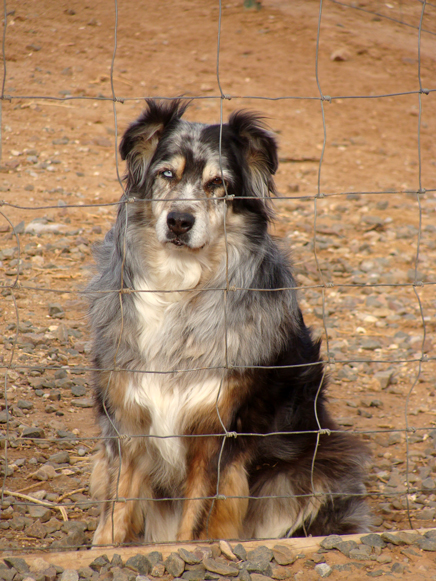 TAKEN 12/21/10 - SHE'LL BE 14 YRS OLD 2/11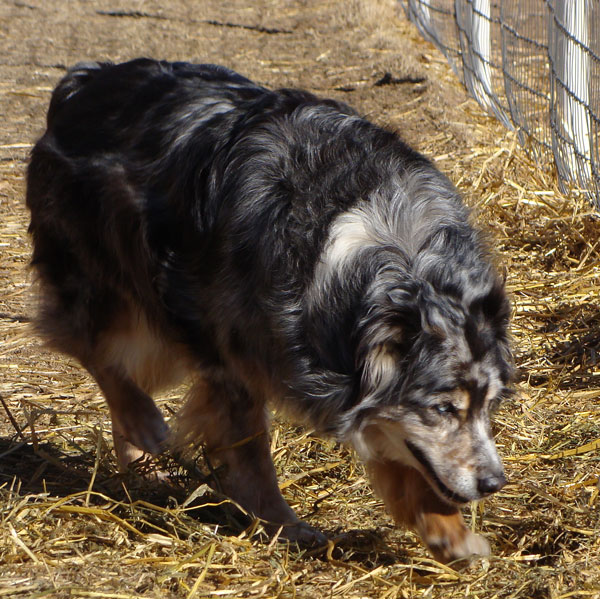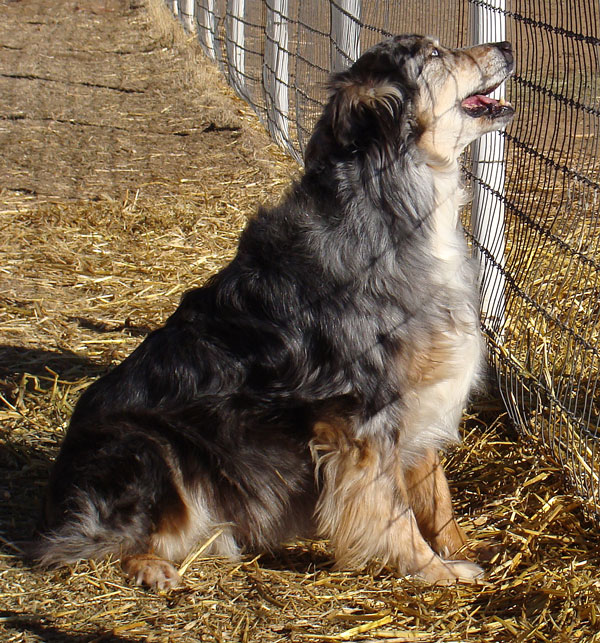 coming 12 in the picture!
DIAMOND S PEPPER - Pepper
Ofa-good, eye cleared, full dentition, scissors, DOB: 022797
Pepper is high drive and always happy! She heads and heels, loves to retrieve, adores people, can be a bit dog aggressive from time to time, is bidable but strong willed, strong in stature, amazingly agile, and very fast. She has wonderful structure and would have been fun to show in conformation. While with her first owner, she fell out of a pickup and her foot was ranover. It was broken, has subsequently healed, but certainly negates her seriously working stock, doing performance or conformation. That foot is quite splayed and the injury traveled up to her stifle causing her to limp periodically. Her breeder, Marval Murphy, bought her back from her first home. Pepper had one litter for Marval and those dogs from that litter are on working ranches. We bought her from Marval and she's been an outstanding addition to our breeding program. Her pups by our Bandit are some of our all-time favorites:) Pepper has working trial siblings, one of which is also a futurity winner. We retained Ally by our Pepper.
WHAT A TERRIFIC PRODUCER PEPPER HAS BEEN. Read about her offspring on daughter's Ally's webpage! Brisco is a multiple USDAA champ! Jazz is running elite Agility. Ally is going for her WTCH title. Others are professional dancing, therapy dogs, agility and/or obedience titled, titled in stock, ...
WTCH Hangin Tree Working Blue RDX

Hangin Tree Spook OTDc STDds DNA-CP

HOF Slash V Cherry Cola

HOF WTCH Hangin Tree Dude PATDsc RD RTDcs DNA-CP

WTCH Hangin Tree Working Blue RDX

Hangin Tree Roja

HOF Slash V Cherry Cola

DIAMOND S PEPPER DNA-CP
(littermate to WTCH Diamond S Dox Sidkick RTDs DNA-CP, Lousiana Futurity winner)

WTCH The Bear of Twin Oaks CD

WTCH The Bull of Twin Oaks CDX RTDcs RDX DNA-VP (ASCA Supreme Finals Stockdog Champion 1991)

HOF Twin Oaks Poky Cody STDs OTDcd DNA-CP

45 Ranch Blackberry Brandy

HOF WTCH Windsongs Falcon RTDcs DNA-CP

Twin Oaks Fredrica STDcds

Twin Oaks Duchess