WTCH Legends of Teewinot's Talon RTDsc PATDsc DNA
CH Legends Max-A-Million CD OTDdsc RE DNA
WTCH Legends Everredi Legends Edi RTDs PATDsc DNA
Up&ComN Pup
Legends StarN King of the Jungle
Legends Rite Up My Ally STDc OTDsd DNA
BISSp CH Legends Magic Happens DNA
Legends StarN Destiny' Child
WTCH Las Rocosa Western Legends RTDs
LEGENDS STARN RIGHT UP MY ALLY STDc OTDsd (1 CD leg/195 score) DNA-VP
HIPS

Good

EYES

Cleared Annually/No Notations

Free of the Herditary Cataract Mutation HSF4

ELBOWS

Normal

MDR1
Normal/Normal
DENTITION

Full

BITE

Scissors

COI

@2.8%

REGISTRATION

asca

DOB

082604

HEIGHT

21"

WEIGHT

51 lbs
ALLY
She's a talker, could do Darth Vader movies:) Loves all toys, natural fetcher, super with people and other dogs.
Training and competing in stockdog & obedience trials with Anne, and dabbling periodically in junior handling w/Ms. Shelby
Full time house dog; Awesome ranch bud and hand:) Anne's constant sidekick.
Sire: HOF VCH WTCH CH Shope's Goodnight Bandit CDX RTDsc HS-As HX-Ad DNA-CP, OFA-G, full dentition, scissors, eye cleared, MDR1 normal/normal - visit his website to see why he's Hall of Fame (HOF) - Bandit qualified and competed several times in the ASCA Stockdog Finals; he finished #5 cattle as a 2 year old.
x
Diamond S Pepper DNA-CP (sibling to WTCH Diamond S Just Do It -Nike, WTCH Diamond S Drifter, & WTCH Diamond S Sidkik - Dox (futurity winner) - Pepper has a broken left back foot and was never trialed; she can, however, peel cattle off a fence - she's tenacious and fearless, OFA-G, full dentition, scissors, eye cleared
You won't find a better companion, ranch bud and partner, or dog that is great with children and other dogs. She's trustworthy and loyal, eager to work stock, do obedience, or help a junior handler make merits. She's a replica of her Sire Bandit is temperament and attitude with plenty of ooomph and grit from her Ma Pepper. Siblings are titling in agility; some are training on stock and in obedience as well. Ally has had one litter; it was by our Talon. That litter is just over one year of age. Pups are training in stock, obedience, agility, and free style dance. She'll have two pups trialing competively on stock late 2008 and early 2009. She has therapy certified siblings. Ally has merited in started trial work, plus she earned herself a HC out of the started classes, plus qualified for MVA at the '08 Classic. Ally earned herself an 87 out of 90 on her MVA evaluation:) Way to go, Ally! Ally is not being campaigned in the conformation ring; Anne says she's a champion of Anne's heart, and that's enuff:)
Ally is Anne's trial partner, constant shadow inside and outside:)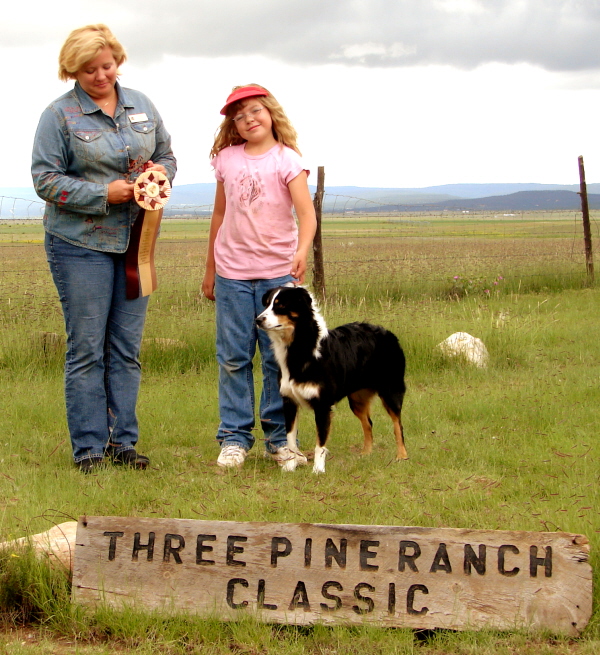 Ally, under 2 years of age, helped seat 9 year old Shelby in the junior handling merits:)
Pedigree below is courtesy of http://www.hrdndog.com.
Pedigree of:

Legends Star N Rite Up My Ally
Black STDc OTDsd C/W AS-22624G25F-PI F=1.86%
F
E136495
8/26/2004
HOF VCH WTCH Ch Shopes Goodnight Bandit CDX RTDcs HS HX DNA-CP
Black W RF AS-9464G24M F=7.00%
E66426 DL52078106
3/1/1994
asca/akc Ch Sand Ridge Ventana
Blue RF AS-7429G28M F=12.05%
E52983 DL46810801
9/17/1991
Windhills Claim Jumper
E31154 DL46218701
HOF Ch Jubilees Federal Agent
Ch Lady In Red of Heatherhill
Viva Las Vegas of Starcross CD
E26653 DL47332101
Midnight Special of Somerset
Ch Visions of Fireslide
Wilcoxs Bitablue Always Raven, working ranch dog
Black W RF F=1.78%
E57102 DL50067301
1/25/1992
Truelucs Hushup Kid
DL46056702
Ch Truelucs Impressive Kid, over 60 BOB's
Truelucs Smurfette (dam to our VCH WTCH CH Claugene)
HOF Wibi Black Velvet
DL50355001
Wibi Crystal Blue Smoke
Queenslands Sissy
Diamond S Pepper
Blue (littermate to WTCH Diamond S Dox Sidkick RTDs, WTCH Diamond S Drifter, WTCH Diamond S Just Do It, C/W RF AS-18424G76F-NOPI F=3.69%
E89004
2/27/1997
HOF WTCH Hangin Tree Dude PATDcs RD RTDcs DNA-CP
Red Merle C/W AS-8698G33M F=31.67%
E61004 DL81203401
8/16/1992
Hangin' Tree Spook OTDc STDds DNA-CP
E50739 DL57402501
WTCH Hangin' Tree Working Blue RDX
HOF Slash V Cherry Cola
Hangin' Tree Roja
E50740 DL57402502
WTCH Hangin' Tree Working Blue RDX
HOF Slash V Cherry Cola
HOF 45 Ranch Blackberry Brandy (littermate WTCH 45 Ranch Bulls Red Rose)
Black C/W RF F=10.73%
E78046
4/10/1995
Stockdog Finals Grand CH, HOF WTCH The Bull of Twin Oaks CD RTDcs RDX DNA-VP
E27663 DL45688501
HOF WTCH The Bear of Twin Oaks CD DNA-CP
WTCH Twin Oaks Poky Cody STDs OTDcd DNA-CP
Twin Oaks Fredrica STDcds
E58512 DL46937001
WTCH Windsongs Falcon RTDcs DNA-CP
Twin Oaks Duchess