EDI
WTCH GRAINGERS EVERREDI LEGENDS EDI RTDs PATDsc DNA
(HOF WTCH Vests Bell Star Gent RTDs x HOF WTCH Starstuffs Blocky Butt Bailie DNA-VP)
Scroll down for Edi's pedigree
LITTER DUE BY EDI x our ALLY 2/16/09 - Visit the Litters Page
linebred stockdog cross of TwinOak/HanginTree/Vest/&our HOF VCH WTCH CH Bandit
Discount of 20% to proven trial homes:) - this is a linebred stockdog litter
Questionnaire Mandatory
Here are the results of Edi's 1st finals, the '08 ASCA Stockdog Finals:
#3/sheep; #8 cattle; #8 ducks - High Combined Stockdog Finals!
1st place ducks ASCA Nationals Stockdog Trial:)
(Edi is qualified for the '09 ASCA Stockdog finals)
Photo courtesy of Grand Images
Edi's ASCA Merits:
'07-'08 #1 MERITS ADVANCED SHEEP, #1 MERITS ADVANCED CATTLE, #1 MERITS ADVANCED DUCKS
#9 PATDs and #9PATDc
(Also merits in Open and Started, every class & level of stock but open ducks!)
Other Honors:
Edi was the Cluster HIT overall at the CASA Memorial Weekend Stockdog Trial (123.5 in cattle)
Most Promising Started Aussie for ASA of Montana's Cow Country Classic (6 trial average)
HIPS

Good

EYES

Cleared Annually/No Notations

Free of the Herditary Cataract Mutation HSF4

ELBOWS

Normal

MDR1
Normal/Normal
DENTITION

Missing one molar

BITE

Scissors

COI

.96

REGISTRATION

asca/akc

DOB

12/12/03

HEIGHT

21"

WEIGHT

45 lbs
Standing to Approved/Select Bitches - STUD CONTRACT
SCROLL DOWN for Pictures & Pedigree.
There is a picture of one of Edi's pups on this webpage.
Picture Credit: Kay Leigh Kandids
Picture Credit: Kay Leigh Kandids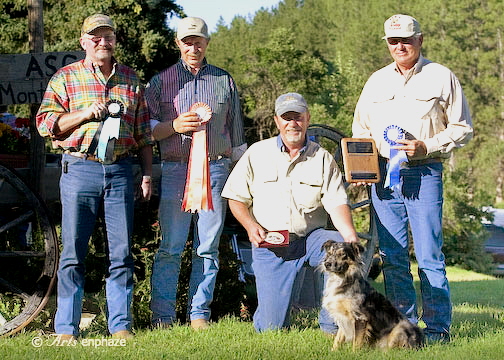 Most Promising Started Aussie for ASA of Montana's
Cow Country Classic (6 trial average!)
Thank you judges Neil DeShazo, Canby Scott & Larry Teaff
for appreciating Edi's stockdog talent:)
Edi loves to play
Enough GRIT to get the job done!
Putting well built, already-going-to-stock pups on the ground!
This is a pup by our WTCH Talon's sister, Lil (Legends Diamond Lil ATDsd OTDc RTDs HTDIIs, HTDIId, HRDIIs (one leg HRDIIIs, one leg HIAd)) x Edi. This pup is under six months of age in this picture. He's named after the sire & dam both:): Lucky Rose Lil Ed - Debby, owner of Lil, owns his littermate, Rosy (named after her Grandma WTCH Diamond S Legends Rosy RTDs). Two really good looking and well built pups, already showing tons of desire to work.


Edi was bred by Jay John Grainger. Edi is a linebred stockdog with tons of talent, drive, and ability. He heads and heels on catte. We thank Bruce Nelson and Jay John for sending Edi this direction. He's a super addition to our kennel. Thank you to Jennifer Skillman who gave him such a perfect-fitting name. This young Aussie is ever ready to do anything he is asked ...
Edi loves to play fetch. He's enjoys being a housedog and a righthand ranch hand:) Edi gets along well with dogs and people. He's a think'n work'n first class stockdog.
He's living up to the lineage seen below in his pedigree, which is chocked full of actual ranch and competitive trialing and working dogs.





Pedigree of:


EDI

(littermate to WTCH Grainger's Bailie on the Rocks and two other siblings now w/open & advanced titles - watch for Edi & his siblings in the ASCA merits & at the ASCA Stockdog Finals)

HOF WTCH Vests Bell Star Gent RTDs
Blue C/W F=45.89% ((

littermate to WTCH Vest Bell Star Blue Tyler, WTCH Vests Bell Star Belle, HOF WTCH LCs Mr. Mann PATDcs FINALS WINNER, WTCH J Bar D Tank PATDcs RTDs

)
E97934 DL81250307
12/14/1997
HOF Vests Bell Star Gator
Blue C F=39.36%
E87976 DL80835801
10/11/1996
WTCH Vests Bell Star Lynn
E34561 DL48336202
Vests Bell Star Jim
Vests Bell Star Jill
WTCH Lynns Tyler
HIII1031
WTCH Vests Bell Star Lynn
Varys Kip
HOF WTCH Vests Bell Star Kate
Black W F=47.89%
HIII1278 DL49562002
4/30/1993
WTCH Vests Bell Star Lynn
E34561 DL48336202
Vests Bell Star Jim
Vests Bell Star Jill
Vests Bell Star Robin
E34562 DL48336201
Vests Bell Star Jim
Vests Bell Star Jill
HOF WTCH Starstuffs Blocky Butt Bailie DNA-VP

(littermate to WTCH Starstuffs Aspiration RTDs)


Black W AS-17517G35F-PI F=2.49%
E108420 DL83960402
11/9/1999
HOF WTCH Windsongs Imagine PATDs RTDs DNA-CP
Black W AS-4802G27M F=1.20%
E35915 DL45879604
4/16/1988
WTCH Little Spots Speckled Image
E26892
Little Spots Speckled Smokey
Elis Waltzing Matilda STDcs
WTCH Windsongs City Rhythm
E5079
Ch Powder Rivers City Slicker STDh OTDc ATDds
WTCH Windsongs Shenanigan CD
WTCH C Hangin' 5 Holly Bear Nt RD RTDc DNA-CP
Blue C/W RF AS-11279G29F F=19.57%
E75203 DL82934001
4/4/1995
HOF WTCH Hangin Tree Dude PATDcs RD RTDcs DNA-CP
E61004 DL81203401
Hangin' Tree Spook OTDc STDds DNA-CP
Hangin' Tree Roja
WTCH Kola Bear RD RTDc
E47342
HOF WTCH Hangin' Tree Black Bear PATDc RTDcs RDg DNA-CP
Slash V Cherry Cola