KARMA
akc BISSp asca CH
Legends StarN Magic Happens
DNA-VP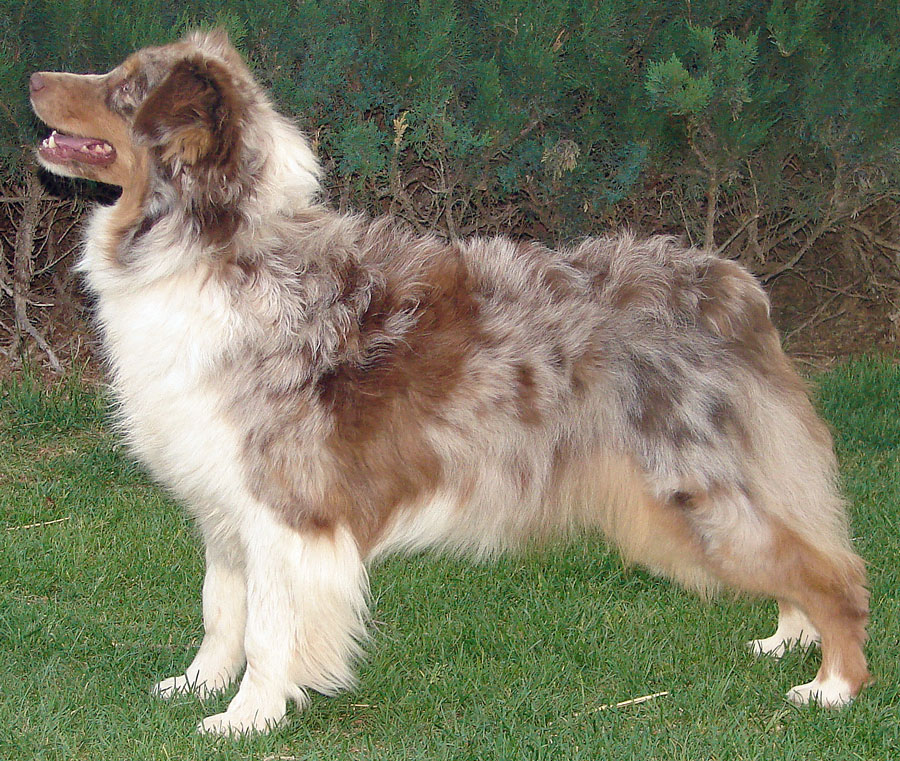 Karma is a littermate to:
BY SIRE: Ch Legends Albuquerque Low CD
Legends StarN Outlaw JesZ CGC AX AXJ OF EAC NCC NJC WV-N RS-E JS-
E GS-E AD SS RN - '08 USASA Nationals placements, USASA Merits in Rally Novice
Paco who just debued in agility picking up legs to his first ASCA agility titles
Ellie, who with minimal showing, has earned some BJH awards for her owner & is now training extensively in agility,
half sister to the following by sire CH Heartfire's Monster Bash:
our asca CH BOB special Ariel
& akc CH special Dale
plus half sister to the following by CH Heartfire's Thief in the Nite CD STDc ATDsd:
Legends StarN Hakuna Matata CGC (training in all disciplines) - black bi male pup
Legends StarN Once Upon a Dream JS-N RS-N (akc agility legs/merits USASA) - Remy (dabbling in stock training also)
BREEDING FEEDBACK: Karma has produced one pup with missing teeth (our Claudia). All other pups produced by Karma have been reported to have full dentition. Karma's dam, Disney, produced all full dentition offspring. Claudia is being solely trained an handled by junior handler Shelby Anne McDaniel. These two are training together in obedience, rally, agility and stock.
Karma's 8 week picture
Karma is a big time kisser. Her toy drive is wonderful and there is not a toy or ball she won't fetch. Her stock instinct is excellent; she has begun serious stockdog training and she is a natural:). Karma is a willing-to-please obedience student and should excel in that discipline - we're going slowly so don't expect to see her until probably 2009 or 2010. She's a part time housedog. Moderate, well muscled, atheletic bitch who gets along well with all dogs. We will begin specialing her some in ASCA June, 2008, and campaign her AKC probably 2009.

Karma won Best of Breed Puppy in Sweeps at the USASA Specialty AKC show 2/16/06 in Colorado under Judge Heather Steyn DVM :)
Pictures of Karma as a puppy follow the pedigree




Pedigree of:


[KARMA]
Ch Legends Albuquerque Low CD (littermate to MACH Legends Rio Grande, CH Legends Irish Rose, Legends Red Heart Snatcher CDX) DNA-VP
Red Merle C/W AS-14744G25M-T F=10.09%
E96925 DL74518608
5/19/1998
Ch Windogos Red O'Sonny Boy CD STDcds DNA-CP
Red C/W AS-11194E24M F=9.49%
E76751 DL61094506
9/4/1995
Ch Merribrooks Cutting Edge
E68488 DL54095602

HOF CH Agua Dulce Final Option DNA-CP

Ch Windogos Sweet Success

The Bees Knees of Windogo
E57715 DL43775801

HOF SVCH WTCH Ch Beauwoods Rustlin'in the Sun UDT RD RV-N DNA-CP

Ch Cats Meow of Starcross

Trueluc Fright Night Tazzie CD STDcds DNA-CP(littermate to VCH WTCH CH Trueluc's Misty Blus Shope CDX)
Blue C/W RF AS-10116G24F F=6.76%
E71139 DL54916604
9/15/1994

HOF Windogos Bust Loose of Trueluc
E53307 DL42964202

HOF Ch Jimmee Blue of Adelaide CD

HOF CH Windogos Southern Belle

Truelucs Razzle Dazzle
E60700 DL50698101

Ch Down-Under Hes Cool of Trueluc

Ch Truelucs Touch of Class

BISSp & BISS A-CH, CH Legends Wishuponastar Nitani
CD STDs (littermate to CH Nitani's PlayN wFire of Legends, Legends Blue Moon of Nitani NA) Black C/W AS-19525G24F-PI F=7.86%
E122021 DL90804902
5/17/2002
Ch Legends Rx 4 Success DNA-CP (littermate to HOF Legends Copper Canyon Watch Me CD, CH Legends Three Times a Lady STDs CD)
Blue C/W RF AS-13064G24M-T F=9.30%
E88589 DL68097207
3/18/1997
asca/akc Ch Windogos Johnnie Walker Red, #5 all-breed AKC
E49944 DL41106203

Ch Feel the Fire of Heatherhill

Windogos Back To the Future (14 pts, deceased)

BISSv VCH WTCH Ch Lady Claugene Shope CDX RTDcs ROMI DNA-CP, ASCA Nat'ls BOB Veteran
E65240 DL51329008

Truelucs Reflejos De La Noche

Zuzaxs 2 Know Me Is 2 Love Me

BISS CH Ferncrofts Ball of Fire CD RE DNA-CP, USASA Nat'ls BOB (champion siblings)
Black C/W RF AS-11465G24F-T F=9.73%
E80800 DL62377604
11/28/1995
HOF CH Caledonias Crowd Pleaser ROMX
E47779 DL43626701

HOF CH Jimmee Blue of Adelaide CD

Ch Butterfields Silky Suzann

AKC CH Propwash Confidence
E46276 DL42590102

Ch Propwash St. Elmos Fire

Propwash Lo And Behold CD
Karma finished quickly in conformation