MISTY
091594 - 021705
VCH WTCH CH Trueluc's Misty Blus Shope CDX DNA
OFA-Fair/Eye cleared/Full dentition/Scissors, spayed
"She is your friend, your partner; your defender, your dog.
You are her life, her love, her leader. She will be yours, faithful and true,
to the last beat of her heart." AUTHOR UNKNOWN
We held her in our arms as she crossed over. Tears still flow over the loss of a dear friend and wonderful companion. She is buried at our back pond where we hope her spirit is rabbit chasing and still guarding over the ranch.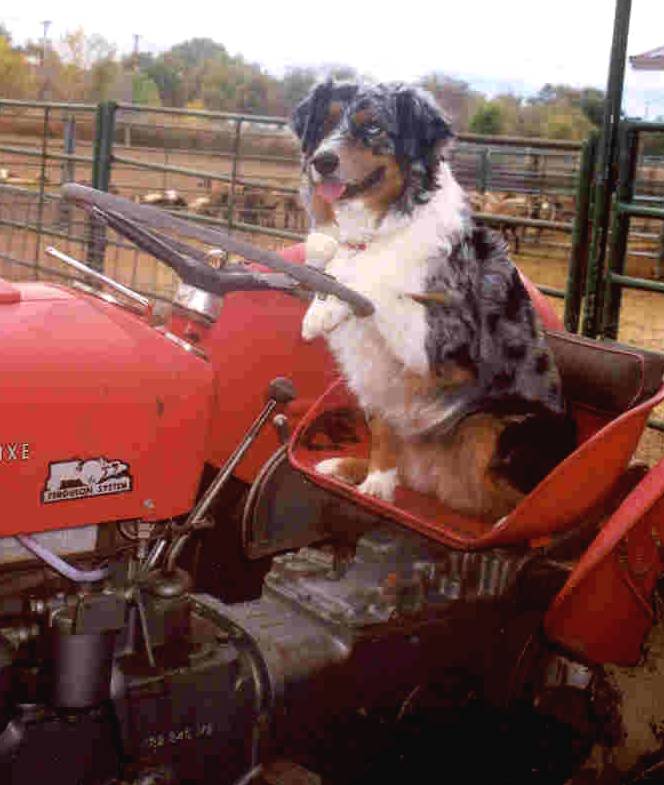 Our VCh Misty graced the cover of the Sept-Oct '99 Aussie Times.
Age 11 and still full of spunk:) She loved us unconditionally
and we loved her back the same! We miss her so very, very much.
Ahhhh, Misty. She's was I-must-be-a-full-time housedog. If you took away her human family, Misty would just die. She had to be with her humans in the house in the thick of things. She was the ruler-of-the-roost in the house. All the housedogs loved and respected her. When a puppy came in, she'd nip a few housedog's noses to remind them to be respectful of the puppy. If you roughhoused with the granddaughter, we'd have to put her up as she'll quickly tell you that's inappropriate behavior.
We could tell her "Where's lassie?" She'd hop in the window and bark and look for Lassie. We could say "Want to go get the mail?" She'd run to the door to tagalong.
She had a frog fetish when younger. I was sitting on the couch when Steve let Misty in one day. She hopped on the couch and joined me but had her mouth clamped shut. I pried it open and out hopped a baby frog across my lap. Ms. Misty can be quite amusing and quite entertaining.
She was deathly afraid of thunder. She could tell you when a storm was coming before it even clouded up. Having said that, Misty finished her working trial championship in CO trialing on ducks in a thunderstorm. Misty was a much valued and treasured family member. She's the Aussie that announced your arrival at our door no matter how many times you had been in and out of our house. She took her love of our family very seriously. She'd not hestitate to suck up to all our company for a cookie or pat on her head:) The company had better have their best behavior while here, however, or she'll let them know to change their behavior with one of her quick Aussie nips. She was not aggressive; she was a true guardian angel.
She's still watching over us; we shed a tear now and again wishing we could give her a hug. Some day we will again ... and they will be tears of joy:)
HOF CH Copper Canyon's Caligari CD
HOF CH Jimmie Blue of Adelaide CD
CH Hotsee Todsee of Fireslide
MISTY'S SIRE:
HOF Windogo's Bustloose of Trueluc
CH Manchado Mutual Gains STDs
HOF CH Windogo's Southern Belle
CH Windogo's Mirage of Taz
asca VCH WTCH CH (ptd AKC) Trueluc's Misty's Blus Shope asca CDX DNA akc CD
dob: 091594, 19.5", 42 lbs
SPAYED

Misty is OFA-Fair, scissors, full dentition, eye cleared annually, herding & major ptd producer

Bred by: Wendy Summers & Ron Reishus/CO

Owned/Trained/Handled by
Steve & Anne Shope

CH Redbank of Timberwolf of Taltarni
CH Down-Under He's Cool of Trueluc
CH Windogo's Eclipse of Down-Under
MISTY'S DAM:
Trueluc's Razzle Dazzle (injured/never shown)
Diamond Aire Ricky Ticky Tavi
CH Trueluc's Touch of Class
Ebony N'Ivory Moon
geovisit();