Contact Steve
Stockdog Judge
Contact Anne
Conformation/Obedience
Sr. Breeder Judge
Contact Stephanie
Products Manager
Prov Breeder Judge
Contact Shelby
Junior Handler
ROSY
(HOF pending) WTCH DIAMOND S ROSY RTDs DNA
OFA-Good/Eye cleared/Full dentition/Scissors, spayed age 6
dod: 10/15/06 (Rosy suffered a major stroke from which she was unable to recover)
"She is your friend, your partner; your defender, your dog.
You are her life, her love, her leader. She will be yours, faithful and true,
to the last beat of her heart." AUTHOR UNKNOWN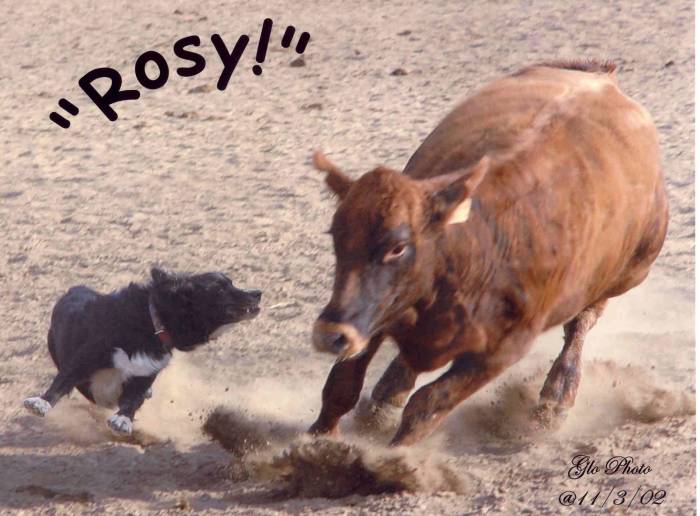 Rosy has grit obviously. She doesn't abuse it; she uses it only when necessary. She lived to work stock and/or be with Steve. She was loyal, protective, and very talented.
She won the sheep at the ASCA Wisconsin Nationals. See picture below.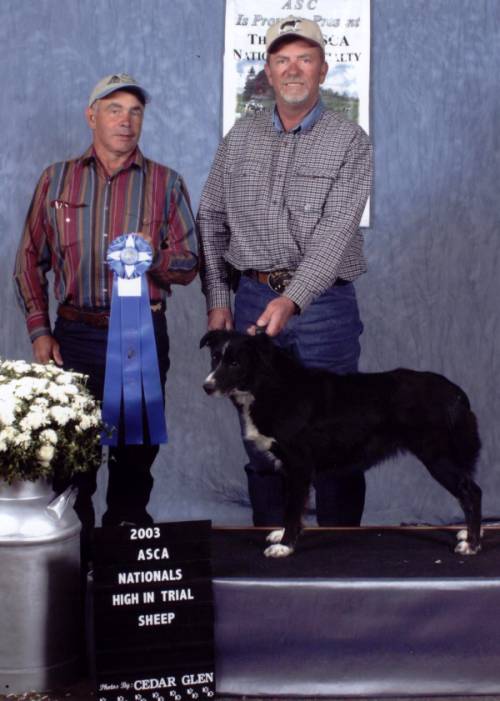 Rosy came to us at about 4 months of age. She's a bundle of stockdog talent, natural ability to read stock, and huge desire to please Steve. She worships Steve literally. Rosy loves to retrieve and hogs the Nylabone chicken-favored chew bones. She's an outstanding house dog and outstanding outside dog. Fence running is her vice:) She's allergic to a stickerweed (stickers the size of pepper kernals) in the late Spring. Other than that, she's a happy, healthy Aussie just waiting for the opportunity to work stock, play retrieve, or warm up a human's lap. She loves children, any children and happily retrieves for any and all. She has been known to nip a heel of an unnounced guest so it'd be best you tell us your coming to visit if she is out. Once you are welcomed by us, Rosy accepts you as one of our family. Rosy is spayed. We retained Talon by our Rosy.
Rosy's pedigree follows:

WTCH Hangin Tree Working Blue RDX
Hangin Tree Spook STDds OTDc
HOF Slash V Cherry Cola
ROSY'S SIRE:
HOF WTCH Hangin Tree Dude RD RTDcs PATDcs
WTCH Hangin Tree Working Blue RDX
Hangin Tree Roja
HOF Slash V Cherry Cola
WTCH Diamond S Legends Rosy RTDs
dob: 092797, 19.5", 35 lbs

Rosy is OFA-G, scissors, full dentition, eye cleared

Bred by: Joni Swanki/ND

Owned/Trained/Handled by
Steve Shope

Rosy won the 2nd day of the Canadian Futurity (open cattle); also made the ASCA stats in trialing

WTCH Hangin Tree Red Zephyr RDX
Hangin Tree Huckleberry
HOF Zephyr's Angel Blue
ROSY'S DAM:
Diamond S Gem
Hangin Tree Buddy
Hangin Tree Crickett STDdsc
HOF Zephyr's Angel Blue








geovisit();