MERRY CHRISTMAS & HAPPY NEW YEAR
HOLIDAY BLESSINGS TO YOU & YOUR FAMILY
SCROLL DOWN FOR THE INDEX
BOTH KENNELS ARE ASCA HALL OF FAME EXCELLENT (HOFX)
LEGENDS and STARN AUSTRALIAN SHEPHERDS
LINK TO OF ALL OUR TITLED LEGENDS AND STARN PROGENY & THEIR OWNERS
HELLO! WELCOME!
No pictures or contracts from this website may be copied and/or used without the expression written permission of the website owners.
STEVE AND ANNE SHOPE: Legends is HALL OF FAME EXCELLENT WITH THE AUSTRALIAN SHEPHERD CLUB OF AMERICA, INC. and HALL OF FAME WITH THE UNITED STATES AUSTRALIAN SHEPHERD ASSOCIATION. Interview with the Shopes (40 pages including pictures) is in the 2012 Australian Shepherd Annual ...... Steve Shope is an ASCA Stockdog Judge, AHBA Judge, and Stockdog Clinician. Anne Shope is an ASCA Senior Breeder Judge, Rally Judge and Obedience Judge through open. CONTACT STEVE OR ANNE (both are on Facebook).
STEPHANIE SHOPE MCDANIEL: StarN is HALL OF FAME EXCELLENT WITH THE AUSTRALIAN SHEPHERD CLUB OF AMERICA, INC. .....Stephanie Shope McDaniel is an ASCA Senior Breeder Judge. She is not taking any assignments due to her ongoing health issues.
WE ARE NO LONGER PUTTING ANY LITTERS ON THE GROUND. WE, HOWEVER, HAVE ONE AUSSIE, GARTH, THAT STANDS AT STUD ON A LIMITED BASIS TO APPROVED BITCHES ... STUD CONTRACT
LINKS
AUSSIES RESIDING WITH US:
HOF WTCH Grainger's Everredy Legends Edi PATDsd AFTDs HATDIIIsdc, 2012 Cattle Finals Champion - NEUTERED/RETIRED
Legends Country Strong Garth asca CDX ODX RNX REX RMX REM and akc CD (1 leg CDX) - WTCH/HTCH, pointed & performance-titled littermates - Garth is also an approved and registered therapy dog. Garth has put two litters on the ground (we own Moxie by him). His young pups are training in performance (rally/oedience), in stockwork (beginning stock titles on a couple already), one training in service work, and one just starting to run in conformation.
HOF WTCH Legends StarN Say GNite Gracie AFTDs BN - SPAYED/RETIRED
Legends StarN Dandy Candy STDd OTDsc RN RA BN - SPAYED/PLAYING IN OBEDIENCE TRAINING & DOING VERY WELL
Legends StarN Courage Under Fire BN RN (Moxie) - SPAYED/TRAINING IN PERFORMANCE/SERVICE WORK/CONFORMATION/STOCK
Tower Mtn KickTheDustUp Legends (Luke) - HE WILL REMAIN IN TACT (under 1 year old) -TRAINING FOR STOCK WORK (carries the blood of many greats ... HOF WTCH Edi, HOF VCH WTCH CH Bandit, WTCH Kat, WTCH Talon, ...) - Watch for him in 2018 w/Steve
Note: CH StarN Meant To Be By Testimony RNX CD (Kismet) resides with us and our extended family. She is spayed and retired from competition.
OTHER LINKS YOU MIGHT WANT TO CHECK OUT:
MEET THE SHOPES & MCDANIELS (recap of our history in this breed)
LINK TO THE LEGENDS and STARN WELL CARE PHILOSOPHY
LINK TO INFORMATION ON CLUBS, ORGANIZATIONS, HEALTH SITES, ETC.
NOTE: All training materials produced by the Shopes have been pulled off the market for updating. Sale of the ranch and family illness put a damper on our timelines to have these products available. We have had them off the market now for about 4 years. We're hopeful now of releasing new-updated products late 2017/early 2018. (This includes How to Choose, Raise and Train a Puppy manual, Practical Obedience video & manual, and the much-sought after Stockdog 101 video & manual). Ranch sold 11/2016.
IN MEMORY OF THOSE AUSSIES GONE BUT NEVER FORGOTTEN ... THE FOUNDATION OF LEGENDS AND STARN
BANDIT - HOF VCH WTCH CH Shope's Goodnight Bandit CDX RTDsc HSAs HXAd
CLAUGENE - BISSv VCH WTCH CH Lady Claugene Shope CDX RTDsc ROMIo ROMIIp
MISTY - VCH WTCH CH Trueluc's Misty Blus Shope CDX
ROSY - HOF WTCH Diamond S Legends Rosy RTDsc
GUS - WTCH Las Rocosa Western Legends RTDs
PEPPER - Diamond S Pepper (littermate to WTCH Dox, WTCH Nike, ...), injured/never trialed
TALON - WTCH Legends of Teewinot's PATDsc RTDsc HRDIIIs, HIT sheep WI ASCA Nationals
MAX - VCH CH Legends StarN Max A Million asca CDX RM OTDc ATDsd akc CD RE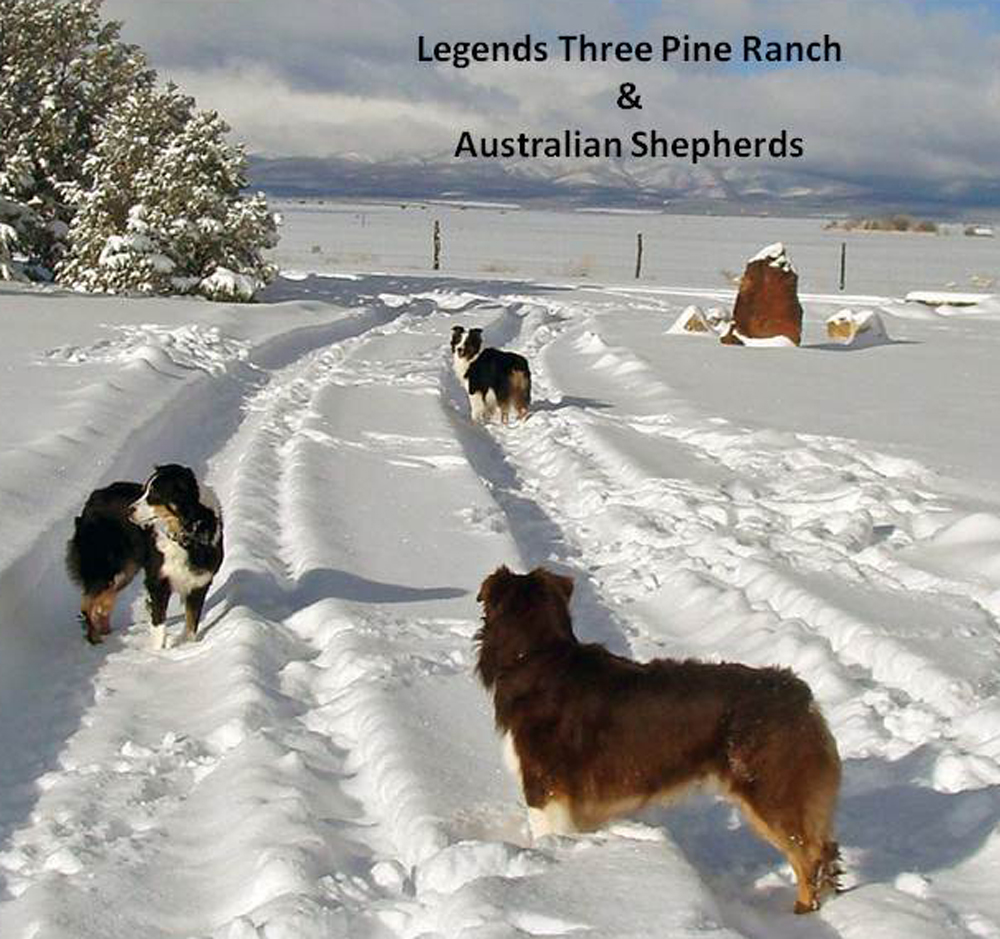 Pictured: Manzano mountains pictured in the background to the west pasture on the ranch - dogs (top to bottom) pictured at the Legends Three Pine Ranch are VCH CH Legends StarN MaxaMillion CDX OTDc ATDsd RM, HOF Legends StarN Rite Up My Ally CD RM OTDd ATDsc, and CH Legends StarN King of the Jungle, all taking a walk in the snow --
WE SOLD THE RANCH END OF NOVEMBER, 2016. We will miss it!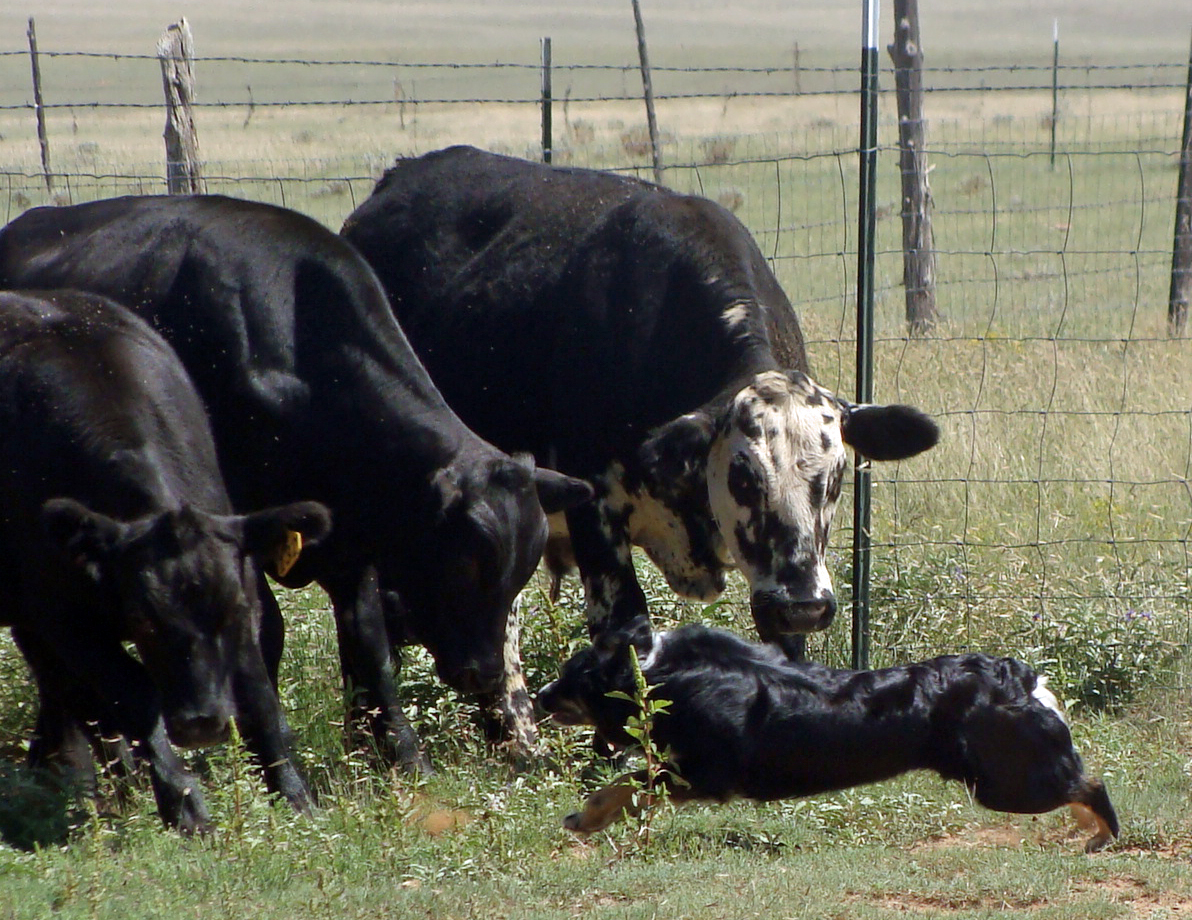 Preserving, promoting and showcasing the working instinct of the purebred Australian Shepherd for @25 years
Pictured: HOF WTCH Legends StarN Say GNite Gracie AFTDs BN RN, retired now - Multiple WTCH/HTCH/performance-titled offspring
THANKS FOR VISITING